5 Different Types Of Flooring Materials To Consider For Your Home – The Pros And Cons

02 Dec
6 Comment(s)
1084 View(s)
5 different types of flooring materials to consider for your home– the pros and cons
The pros and cons When it comes to hardwood flooring, many homeowners only think of

solid wood

and

engineered wood

. However, there are other manufactured woods, such as

Luxury Vinyl Tiles

that are fashioned to simulate the look and feel of hardwood.



Hardwood flooring is a beautiful but big investment. Thankfully there are other options that can give you the look of hardwood. We will break down the differences of each Engineered/Solid hardwood,
LVT
,
Laminate
so you can make the best decision for your home.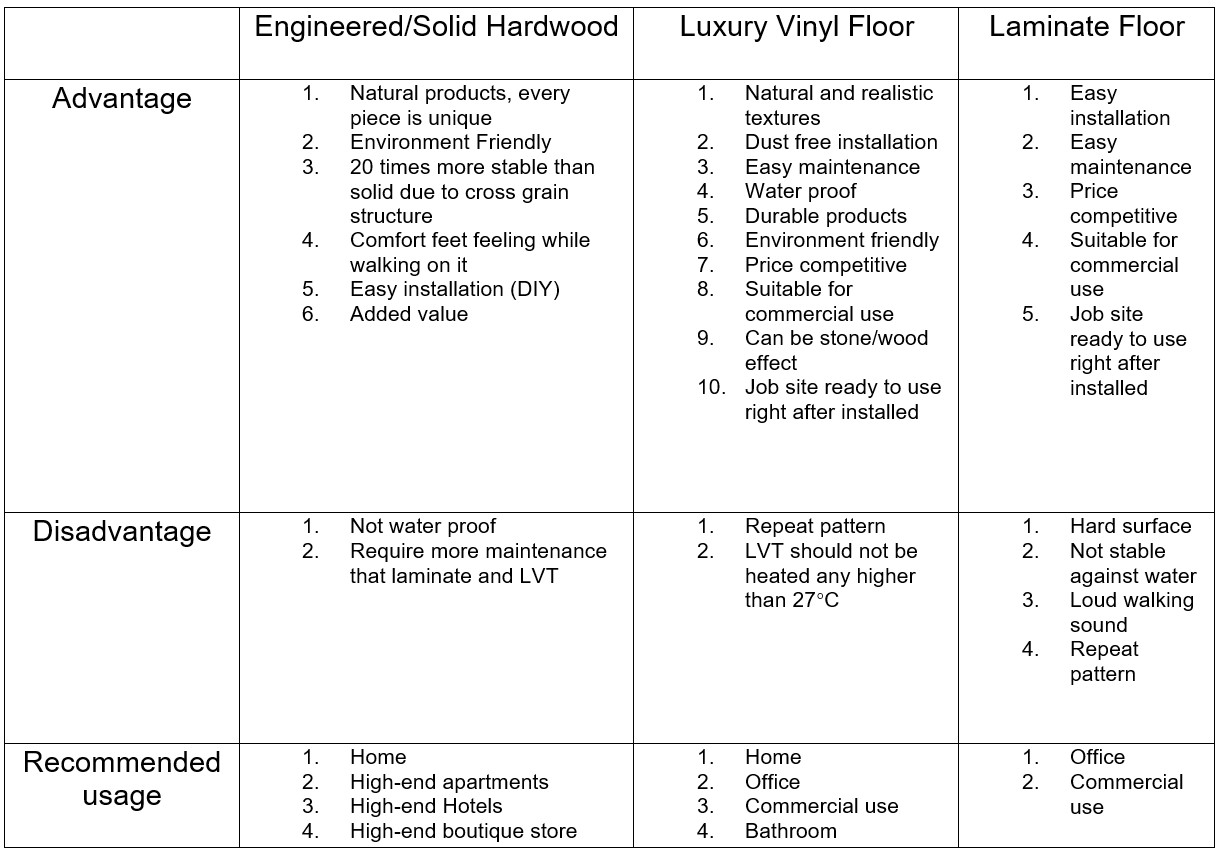 1.Solid WOOD FLOORING
Super popular in homes everywhere not only because wooden flooring like timber is gorgeous
and suits many a different interior design scheme – be that more polished and contemporary and suits many a different interior design scheme – be that more polished and contemporary or rustic farmhouse – with varying grains, tones and finishes, but also because hardwood is very durable and resilient when treated and cared for properly. Timber is usually lacquered or oiled, very durable and resilient when treated and cared for properly. Timber is usually lacquered or oiled, depending on the look you prefer.


Advantages: Solid wood flooring is versatile in its look and can complement all types of interiors. It's long-lasting and will withstand up to five refinishes to remove surface scratches. Andrew Barker, Founder & CEO of HomeownerCosts adds that Real estate experts say that hardwood flooring could increase the resale value of your home as it's such a sought-after feature for many.


Disadvantages: It's the cost and the upkeep that comes with Solid wood flooring which can put it at a disadvantage as you will usually need a professional's help to get a good finish, unless you're up for some fairly expert DIY. Prices vary according to the thickness of the decorative wood veneer and quality of the core. Barker notes also that 'When exposed to moisture for a long time it can warp making them not fit for bathrooms or laundry rooms.' So you may not be able to install Solid wood flooring everywhere, especially not in a shower...
2. ENGINEERED WOOD FLOORING TYPES






Engineered wood floors feature a real wood veneer over a middle core of heat-formed wood and a base-supporting layer (used where shrinkage might be a problem). The stability of engineered flooring makes it a perfect choice over underfloor heating if the guidelines are followed, plus it is easier to lay than solid wood flooring.

Advantages: Because of how they are made, engineered wood planks are usually more dimensionally stable and less likely to expand or contract with temperature changes or fluctuations in humidity.
Disadvantages: Unlike Solid wood flooring, it won't take to refinishing so well because of the thinner top layer.
3. LAMINATE FLOORING

Laminate flooring is made from layers of high density fiberboard with a photographic image (of timber, tile etc) laminated to the surface below a tough, wear-resistant coating.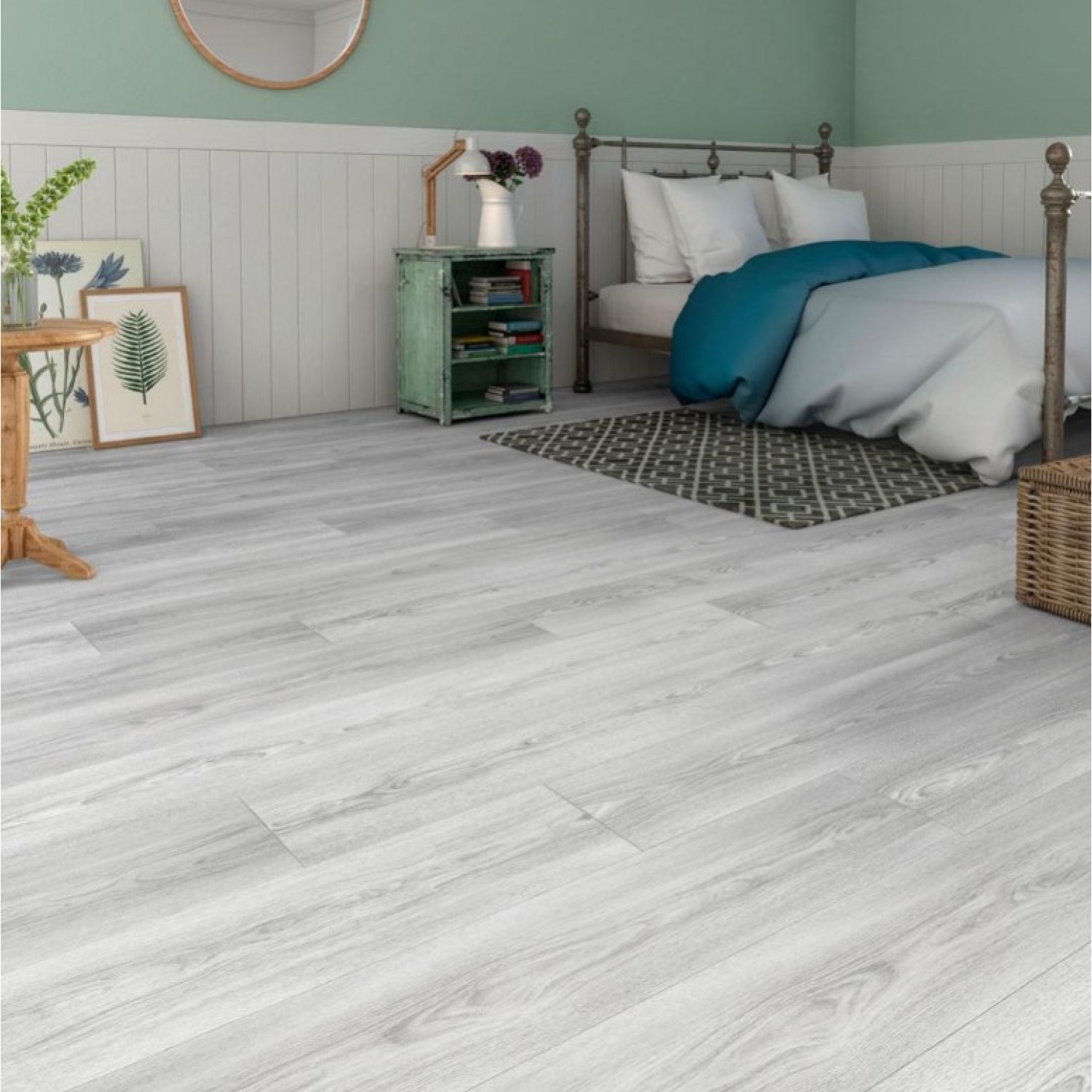 Advantages: Its advantages are its price, anti-scratching properties and ease of installation. Laminate is a great choice for a busy household in all areas that are not exposed to heavy moisture (so avoid using in a bathroom).

Disadvantages: It depends on the manufacturer but laminate flooring types can feel cold and hard underfoot. If laid badly, it may also be noisy and clunky.


Top tips:
Saul notes that you should avoid really cheap faux wood laminate flooring as this will only be reflected in the quality.
Generally speaking however, 'it is easy to maintain and it is durable.' Saul also recommends laminate flooring for basement locations.



4. LUXURY VINLY TILE
If you want the benefits of vinyl without the worry of it looking cheap or not lasting very long, there's always the luxury vinyl option. When luxury vinyl flooring options entered the picture it was a game changer. Homeowners got the beauty of hardwoods without the upkeep. LVT is not your grandmother's vinyl flooring – you know the flooring that yellows over time and feels like plastic? LVT rather than coming in sheets, comes in planks.

Advantages: These interlocking planks are engineered to include the look and feel of hardwoods in a material that is much more durable. LVT is typically more cost effective than hardwood and can be used throughout the home – including in those wet areas as many LVT brands are waterproof. Making it a possibility for bathrooms and kitchen flooring options too. Look out for luxury vinyl tiles too like the above from UK Flooring Company.

Disadvantages: It's a little more expensive and not the real deal.


WHAT IS THE LEAST EXPENSIVE FLOORING?
If your main priority is finding the cheapest types of flooring for your home, look into vinyl. We'd recommend checking the prices of any luxury vinyl options and maybe mixing and matching to help add more style but stay on budget too.


Showing 1 to 6 of 6 (1 Pages)